As we enter the new decade, we are simultaneously celebrating Crazy Ant Lab's first birthday! We had dedicated some time to summarize the highlights of 2019 and keep you in the loop about our product roadmap for the upcoming year.
Accomplishments along the way
Cron To Go is the second Heroku add-on that we've published. It moved to GA in early April, 2019. Since then, the add-on has been installed in just over 500 accounts, for which we manage a total of 3,022 jobs. These jobs have been executed more than 20 million times up until now! We are also very pleased to have been able to maintain 99.9% availability through uninterrupted uptime.
What we've worked on throughout 2019
Since the initial release of the add-on, we've done our very best to gather valuable feedback from our users to improve our product and provide the best overall quality and experience for them. You asked, we listened. Here are the latest additions to the world of Cron To Go:
Dyno type selection to control your spend on background tasks
Import jobs from Heroku Scheduler (and other scheduling add-ons) for super quick migration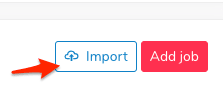 Added job execution history and job logs for enhanced monitoring
2020 Roadmap
Join us on next year's adventure with plans to help you focus on working on the important stuff while deferring mundane task scheduling to a reliable service. We are looking to add job failure notifications, timezone support and other features (full list here). You have the opportunity to take part in shaping the future of Cron To Go by telling us what you think of our roadmap and we encourage your own personal insights and suggestions, for, we couldn't have done it without you.
What else have we got for you?
If you are searching for a secure and fully managed scalable SFTP to access, transfer, and manage your storage, look no further. With S3 backed storage, its durability and flexibility are unmatched.
Activity to Go allows you and your team to stay notified on any changes happening within the Heroku app in Slack, and integrate change notifications to other systems.
Before you go
We are so thrilled to be able to share our progress and plans with you all and remain incredibly humbled to have come so far with the support of your choosing and trusting us. If you have any questions or feedback, feel free to contact us and if you have a few more minutes to spare, we'd be grateful if you could submit a review on G2.
Wishing you a happy new year,
Crazy Ant Labs